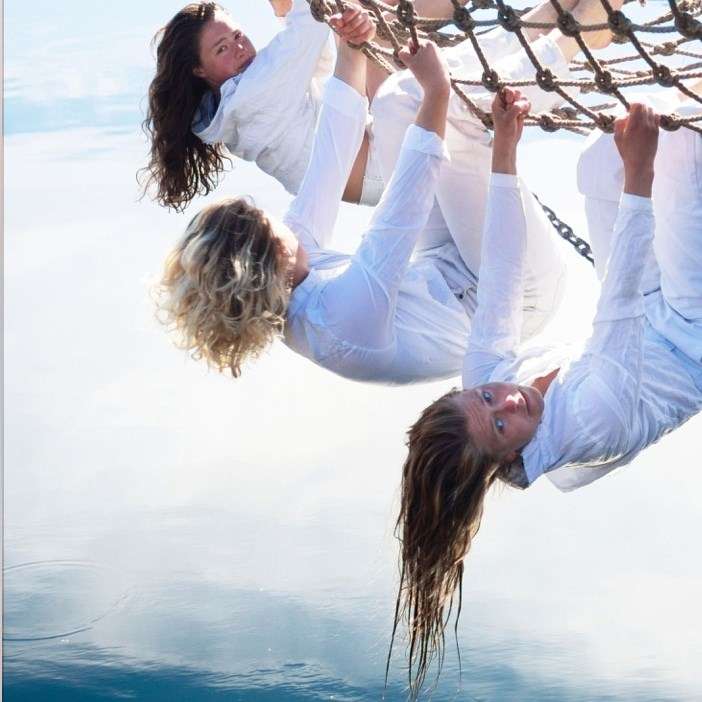 A physical art project for planet earth initiated by Abigael Rydtun Winsvold and Victoria Sophie Gulliksen! A4C works as an umbrella organisation with the goal of involving everybody interested arts and environmentalism.
Acting for Climate is a performance art project, whose goal is to inspire people to take actions towards a more sustainable future. With the show "Into the Water" we will create a sailing performance that can travel the world to inspire; people, artists, and activists, through contemporary circus, physical theatre and workshops. The performance aims to create a wave of inspiration and action. "Into the Water" is not just a small touring performance, it is also a mindset introduced to the world.
Inspired by Piet Hein's definition of art as "the solution to the problems that cannot be formulated clearly before being resolved", we want to use our art in the aim to achieve a sustainable future. Artists have an unique opportunity and responsibility to inspires action, joy, and change in relation to these challenges that concern us all. "Into the Water" is part of taking that responsibility, and will be based on the latest and most current knowledge within the environment and climate research areas.
Our stage and home will be Hawila, a two masted wooden sailing ship. The use of a boat as our stage forces us to re-think and develop our disciplines, and challenge the idea of what circus is and can be today. Water is a link between people, nature and land, and we want to use that link as part of our performance. We have water and cycles as a theme to bring forward not the individual issues of climate change but more to think about and be able to talk about the global issues in how society thinks and functions on this planet.
"Into the Water" will go on tour from the 1st of July 2019.
Acting for Climate was initiated in 2015 by Abigael Winsvold (NO) and Victoria Gulliksen (NO). Other dedicated members of the team include circus artists: Nathan Biggs-Penton (USA), Ida Langkilde (DK), Villads Bugge-Bang (DK) and Emma Langmoen (NO).
Acting for Climate works as an umbrella organisation with the goal of involving everybody interested in arts and environmentalism to create a global network working towards a common goal.
ANDRE OPLYSNINGER OM: "Acting for Climate"
I Grønne Sider:
Saving the world through sustainable handstands and eco friendly clown noses. A physical art project for planet earth initiated by Abigael Rydtun Winsvold and Victoria [...]
c/o i Danmark: Produktionshus for nycirkus og scenekunst, Finlandkaj 6

, ,


5000

Odense, Syddanmark
I Grønne Begivenheder:
BARK er en poetisk, spektakulær og tankevækkende nycirkusforestilling for en skov, et publikum og fem artister. BARK bliver opført stedsspecifikt i og med en [...]
21. maj 2021 - 30. maj 2021
I Grøn Vidensbank:
I Grønne Annoncer:
I Grønt Arkiv:
ANDRE OPLYSNINGER
I De Grønne Sider:
Saving the world through sustainable handstands and eco friendly clown noses. A physical art project for planet earth initiated by Abigael Rydtun Winsvold and Victoria [...]
c/o i Danmark: Produktionshus for nycirkus og scenekunst, Finlandkaj 6

, ,


5000

Odense, Syddanmark
I Den Grønne Kalender:
BARK er en poetisk, spektakulær og tankevækkende nycirkusforestilling for en skov, et publikum og fem artister. BARK bliver opført stedsspecifikt i og med en [...]
21. maj 2021 - 30. maj 2021
I Det Grønne Bibliotek:
I Den Grønne Opslagstavle:
I Det Grønne Arkiv: